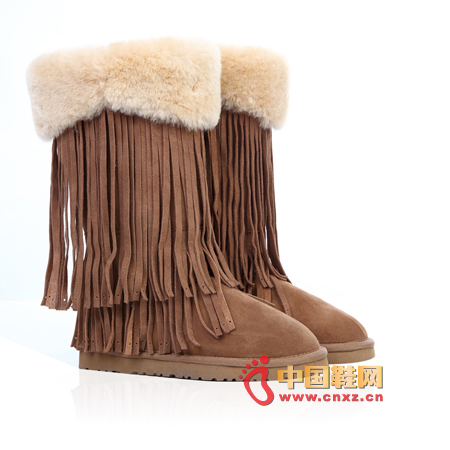 [ Ben Wang - shoes and life] cold struck, so that many people who love beauty and want to keep warm have chosen snow boots. However, recently "microblogging," the "long-term wearing snow boots easily lead to toe deformities, leg pain and other symptoms" scared a lot of people in the United States. "Is snow boots really hurting the foot?" The reporter interviewed relevant experts for the purpose. They learned that although the snow boots are comfortable and wide, they do not conform to the ergonomic design and it is easy to wear them for a long time.

Whether it is a street shop or an online shoe store, snow boots are sold in a wide range of styles. Materials are also produced in a variety of forms, including leather and velvet fabrics. However, no matter what kind of material is used, the shape of the snow boots is round and round. The boots are lined with a layer of fluff. The feet are not only relaxed but also warm. Unlike the raised design of a typical shoe, the interior design of many snow boots is flat.

Reporters randomly interviewed 10 female citizens wearing snow boots on the streets. There was only one citizen who expressed concern that he would wear a pair of snow boots for a long time. "It feels good to wear it. I wear it on the way to work." Ms. Wang told reporters that when she wore snow boots, she found that the snow boots were not very close to the feet. They were not as good as sports shoes. The snow boots ensure warmth. The weather is so cold these days, so wear them.

According to British orthopaedic experts, the materials used inside and outside the snow boots are very soft, and the internal space is relatively large. After putting on the feet, there will be a certain amount of sliding in the feet. Every time one step is taken, gravity will be scattered around the feet. When open, the footbow is subjected to a greater impact, causing damage to the foot, ankle, or even buttocks. In this regard, the production company of the well-known snow boots brand UGG also admitted that although the snow boots are very comfortable, but it can not be compared with sports shoes, it is not suitable for long-term outdoor walking.

To this end, the reporter interviewed an orthopedic center medical expert. He told reporters that although the snow boots are loosely designed, they actually do not conform to the ergonomic structure, especially the flat soles. The unstable support points for the feet and uneven gravity distribution can cause problems with the arches. "Usually walking through the problem is not large, but not long-term wear, or will cause some damage to the foot." Professor Wang said that although the snow boots are comfortable to wear, but wearing a long time, but it will feel very tired, "You can wear it as a regular home shoe, but you can't wear it as an outdoor shoe."

· The old shoes at home are like this to transform big spikes
· Old shoes don't stupidly throw away so that the shoes "open"
Put a physical insurance on your shoes
· How to clean the matte surface of the shoes?
· Breathable, antibacterial, deodorizing socks with it to avoid off shoes
·Sports shoes's little tail actually has these 3 functions you certainly don't
·High-heeled shoes audio sound? 4 coups to ease you learn a few
·How to choose shoes during pregnancy? Flat shoes are not safe
What should I do if my shoes become moldy
·Wearing these shoes in the summer will hurt you

Home decoration artificial Green Plants Candle mini cactus candle table tea light.
Creative Paraffin Wax Cactus Shape Creative Smokeless Craftsmanship Candle Plant Succulents Candle



All products we offer you is real capacity with good quality. The goods are guaranteed for 1-2 years, from date of sale,

providing not damaged by the user. If broken, we will provide free maintenance or send you replacement

Plant Candles,Poured White Plant Candle,Color Plant Candles,Green Plants Candle
Shijiazhuang Huaming Laye Limited Company , https://www.huamingcandle.com